Sump Pump Installation
in Downingtown
Protect Your Basement and Foundation
Save

On New Sump Pump Installation
Downingtown
Sump Pump Installation
Sump Pump Installation – Retro-Fit
If your Downingtown
Sump Pump Installation
home is getting water in the basement there are several things you can do.
If the water is localized to one area, a sump pump and pit may be the solution. Installing a sump pump in an existing basement will draw water from under your foundation and pump it to a low lying area of your yard keeping the water from entering the basement.
A sump pump installation is the first step towards basement waterproofing. It includes cutting a hole in your existing basement floor and excavation of approx. 3 feet of material to set the sump pit properly. The pit is then cemented in, level with the floor and fitted with a lid. A quality pump is installed, with a 5 year warranty on parts and labor, sized based on your home and the amount of water we are dealing with.
Sump Pump Installation is the first step and sometimes the solution to basement waterproofing. While French drains will move water from around your home to one or more pits, a sump pump can only collect water that flows under ground near it making it preferred for single spot remediation.
A sump pump acts like a straw in a Slurpee, pulling water from the area below your home, allowing more ground water to leech downwards. By doing this, the water will not create as much pressure on your walls and have somewhere to go, instead of entering your basement.
If your basement is already finished, and you are only getting water in one area, we always recommend a sump pump installation as the first step. Installing French drains requires digging up the entire perimeter of your basement and usually requires demolition of walls, and a large expense.
If you have the tolerance for a little water, installing a sump pump first could save you thousands of dollars. After installing the sump pump, you will get a better idea of how it is handling the water in your [Ciyt] home.  If By all means, if you are refinishing your basement and/or keep valuables stored, have your HVAC unit, Water Heater, etc. directly on the floor (best practices is to install them on 4″ Concrete Slab) for flood protection.
When installing a new sump pump, you should expect to get 7-10 years out of it with minimal annual maintenance. We always recommend replacing your pump every 10 years if you are not checking an maintaining it regularly. Sump pump replacement as your system ages will insure that your pump is ready to handle any storm or snow melt.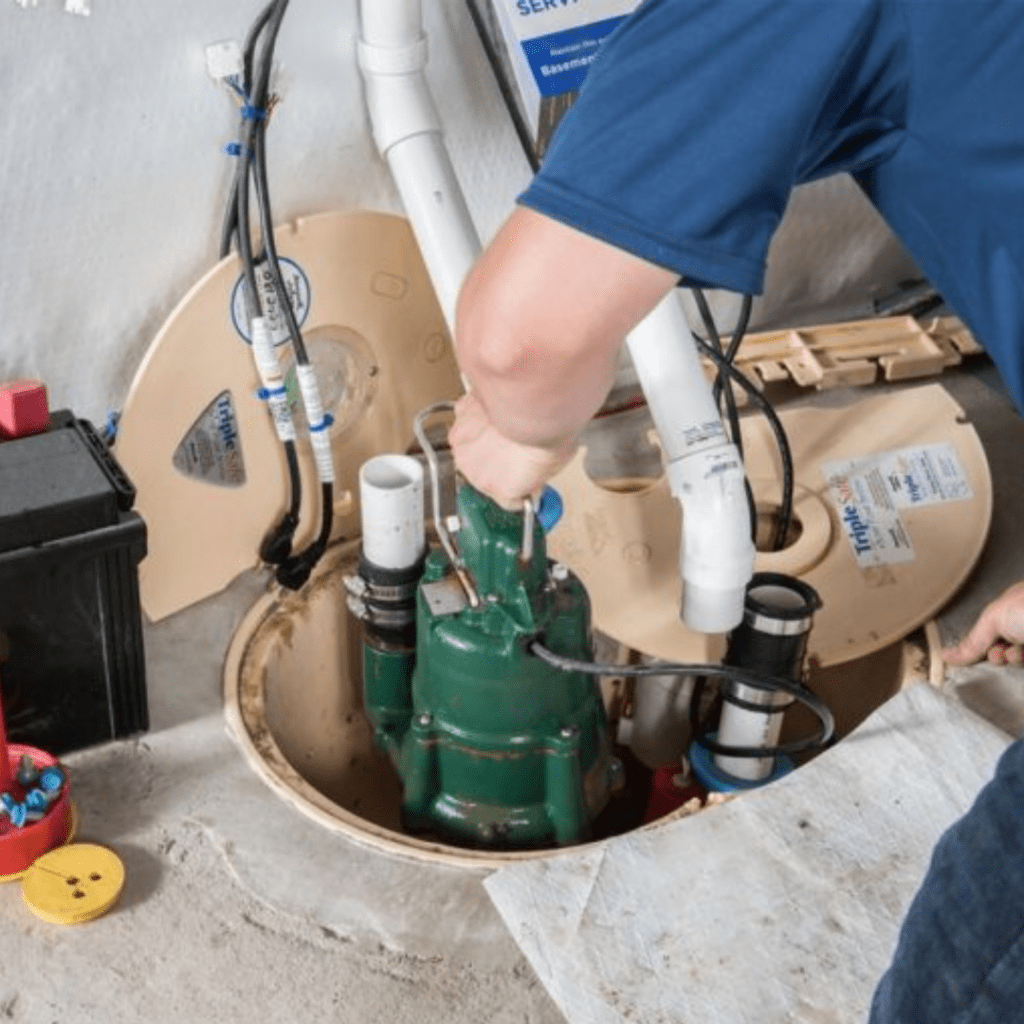 Sump Pump Repair & Replacement Services
A properly installed, working sump pump system offers you, a Downingtown homeowner unmatched peace of mind when it comes to keeping your basement water-free. If your pump isn't working as it should (or you need to have one retrofitted), you can rely on our team at Sump Pump Gurus.
Our pricing is based on the total cost of the job, not the time it takes to complete it. This allows us to offer you upfront pricing in writing before we begin any work—when you hire us, the quote you're given is the price you'll pay. We offer safe and fast sump pump repair services to families in Downingtown.
Sump Pump Gurus offers the most comprehensive warranty in the industry, covering both parts and labor, so you are assured you are always getting the best quality product and technicians.